Why Service with Buckingham Hyundai
At Buckingham Hyundai, we offer you a free exterior car wash with any service or regular maintenance of your vehicle!
Service all makes and models
Expert Certified Technicians
Advanced Diagnostic Equipment
Generous Guest Services and Amenities
Schedule a Service
Hyundai Service Centre in Buckingham, QC
Whether you drive one of our
New Hyundai vehicles
or a model from our used inventory, our Service Centre in Buckingham, QC is where you can get your car the maintenance it needs. Find out more about how often you should book your service appointments and how to know if your vehicle is being recalled below.
• How Often Should I Service My Hyundai?
You can't go wrong by following your Hyundai's recommended service intervals. It goes without saying that every car is built differently, so remember to consult your owner's manual to know how often your Hyundai is due for service.
• How Often Does Hyundai Recommend Oil Changes?
As with every service that's part of your regular vehicle maintenance, you can find your Hyundai's recommended oil change intervals in your owner's manual. That said, most Hyundai models can go 12,000 to 16,000 km between oil changes, depending on your driving conditions and habits, and we recommend checking your levels once a month just to be on the safe side.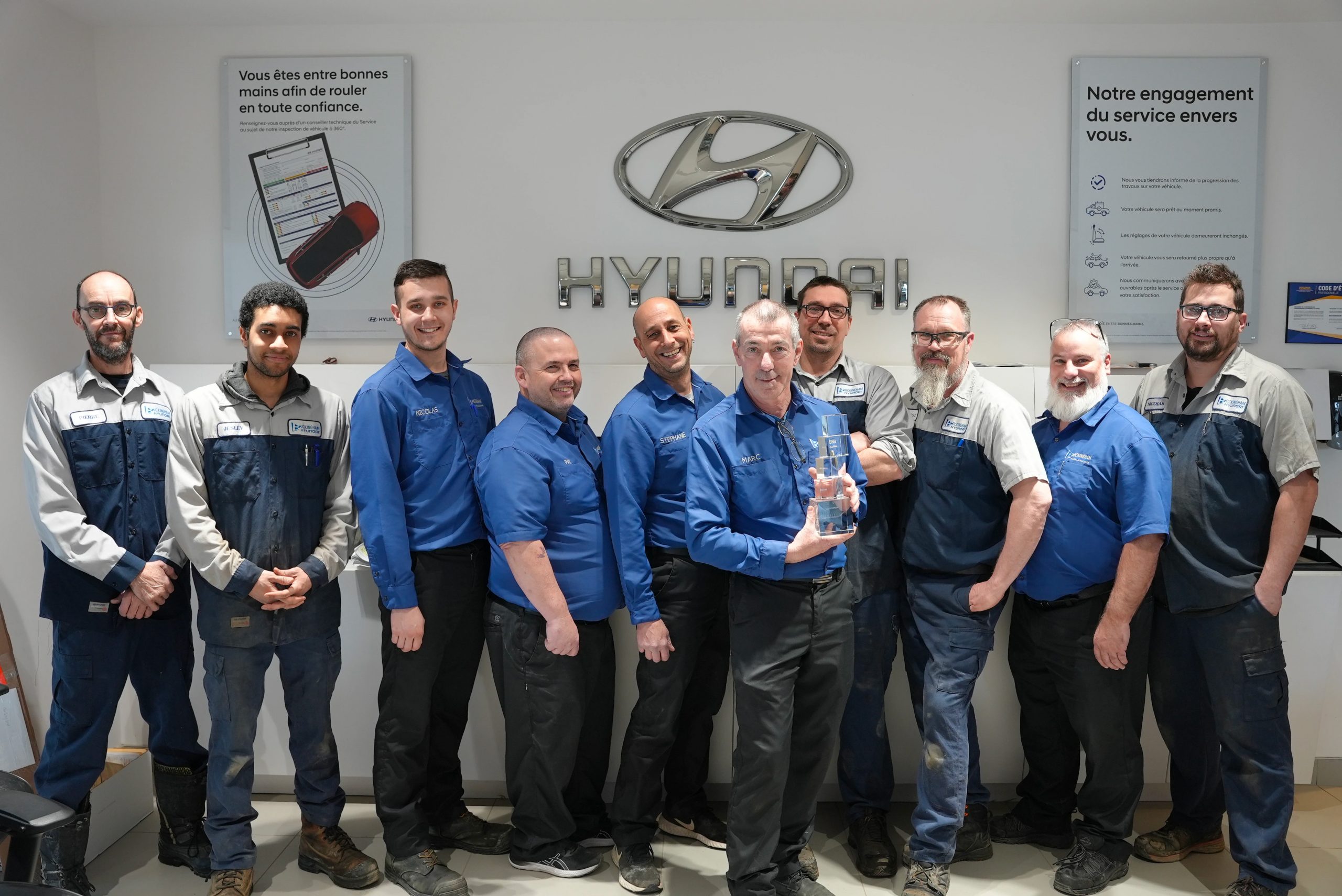 Hyundai Signature Prestige Award
Buckingham Hyundai Service Department was awarded by Hyundai Canada with the #1 Customer service experience in Quebec for 2022! We are delighted to have earned this prestigious Award. This prestigious award recognizes our commitment!
• How Can I Know if My Vehicle Is Being Recalled?
Whatever your car's make, model, or year, you can always verify whether it's been recalled by visiting the manufacturer's official website. If you're a Hyundai owner, all you need to do is enter your VIN number on the automaker's site to find out if it's being recalled, after which you can book an appointment with our Service Centre to rectify its issues.
• Which Hyundai Cars Are Being Recalled?
A pair of Hyundai models have recently been recalled over some seatbelt issues, namely the Accent and Elantra. If your Hyundai has indeed been recalled, contact our dealership today, and our technicians will tend to it as needed to get you back at the wheel with a clear head.
Whether you'd like to know more about our new or
used vehicles for sale
or book a maintenance appointment with our Service Centre,
contact u
at Buckingham Hyundai today.
Welcome to our Service Department
At Buckingham Hyundai, our highly qualified technicians are here to provide exceptional service in a timely manner. From oil changes to transmission replacements, we are dedicated to maintaining top tier customer service, for both new and pre-owned car buyers! Allow our staff to demonstrate our commitment to excellence.